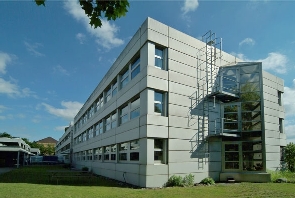 New starting Januar 1st, 2014
Merger of the Institute for Veterinary Virology of the Vetsuisse Faculty (IVV) with the Institute for Virology and Immunology (IVI) of the Federal Food Safety and Veterinary Office (FSVO). The new IVI, with facilities in Mittelhäusern (IVI) and Bern, continues to offer high quality research, teaching and services in virology and immunology in cooperation with the Vetsuisse Faculty Bern.
Appointment as Assistent Professor (March 28th, 2017)
On April 1st 2017, Dr. Ronald Dijkman (PhD) of our Institute of Virology and Immunology (IVI), starts his appointment as Assistent Professor (non tenure track) within the research priority focus 'host-pathogen-interaction' ("HoPa"). The Executive Board of the University of Bern approved the assistant professorship and the employment. We heartily congratulate!
Vetsuisse communication
New perspectives for research on hepatitis C virus (March 9th, 2017)
The hepatitis C virus (HCV) infects around 160 million people worldwide. Although there are new therapies, HCV infection is still one of the most common causes of liver transplantation. TWINCORE-scientists Prof. Eike Steinmann, Dr. Stephanie Walter, und Dr. Stephanie Pfänder (former scientist at the TWINCORE in Hannover, now at the Institute for Virology and Immunology (IVI) in Bern) are now investigating a very close relative of the hepatitis C virus: the "non-primate hepacivirus" (NPHV). This newly discovered viral pathogen infects horses and donkeys and raises many questions that will give new insights about the human hepatitis C virus.
Media release Article
Viruses of the common cold might originate from camels – just like MERS (August 19th, 2016)
Four human coronaviruses are globally endemic respiratory pathogens that, together with the well-known rhinoviruses, are causing the common cold. Mostly, these infections take a innocuous course in humans. Virologists from Bern and Bonn now identified the source of one of these four human coronaviruses «HCoV-229E» – it originated from camels just as the much-feared MERS-virus.
Media release Article
New virus transmission route discovered in pigs (February 23rd, 2016)
Japanese Encephalitis (JE) virus causes serious inflammation of the brain in people and fertility problems in pigs. Mosquitoes were previously the only known transmission route. However, the virus can also be spread from pig to pig by direct contact, and this could enable it to circulate in pigs during the mosquito-free winter season..
Media release Article
World Rabies Day (September 28th, 2014; annually)
Each year on September 28, the "World Rabies Day" is celebrated. Various activities at that day shall increase the awareness of this disease, with the ultimate objective to stop the suffering caused by this disease. In 2014, the year's theme was "End Rabies Together", and 2016 marks the 10th World Rabies Day, a milestone in rabies prevention.
With regard to the 'World Rabies Day', the topic "Rabies in Switzerland?" was the headline on September 8th, 2014 at the radio station Radio Freiburg.
Inhibition of the new MERS-Coronavirus (May 30th, 2014)
The MERS-Virus (Middle East Respiratory Syndrome Virus) belongs to the newly emerging coronaviruses similarly to SARS coronavirus. To date, there are no pharmaceuticals available to treat coronavirus infections. Now, an international research team including researchers from our new institute discovered a way to block MERS- as well as SARS coronaviruses.
Media release Article